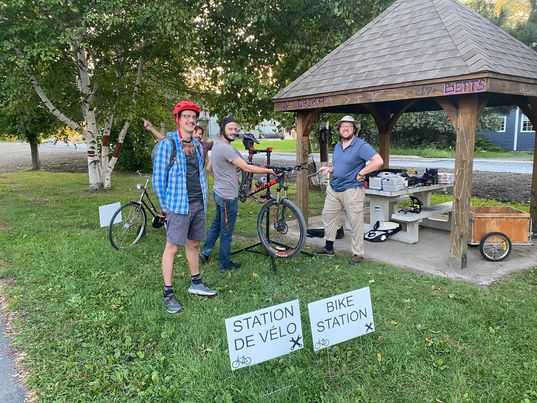 Graham McAteer
Fredericton, NB
Graham is a civil engineer with a passion for active and sustainable transportation ecosystems. He is an avid year-round cyclist who loves to promote the mental, physical, and environmental benefits of cycling. If you ever wonder where to find Graham, he is most likely on his bicycle commuting to work, getting his groceries, or doing maintenance and repairs on his bicycles . He cycled over 4,000 km last year and plans to beat that number next year. He lives and breathes cycling, from keeping up with the latest news, reading books, to analyzing the latest research reports on the subject.
Pedal Parenting
Wish you could get out of the house with your kids but still get them fresh air? A lot of development has taken place recently on how parents can take their kids to the park, to school, or wherever they need to go with using a car. Come learn about the various methods, a bikes used around the world to transport kids and their parents.
About this Project
Communities Served
My project will involve and/or impact the following communities:
Refugees & newcomers
LGBTQ2+ Community members

United Nations Sustainable Development Goals
When it comes to community impact projects, the UN has created 17 Sustainable Development Goals. These are the Sustainable Development Goals associated with my project.
SDG 3: Good health and Well-being
SDG 5: Gender equality
SDG 10: Reduced inequalities
SDG 11: Sustainable cities and communities
SDG 12: Responsible consumption and production
SDG 13: Climate action
How the project works
This will be an event to introduce prospective pedal parents to various tools, techniques and bikes they might need or use to transport their children. The event will be held in August before school starts. Before then: -Identify lenders or renters for various bike seats and cargobikes -Acquire helmets -Find ideal location, get permit -Find speaker, resources -Organise refreshments
Project Impact
Help disseminate cycling knowledge to encourage parents to get their kids out on bikes.
Project Mission
Promote Parents on Pedals
Project Team
Our team has been organising cycling events for years, including the popular Slow Roll which connects local businesses with cyclists.
Donate to Sprout to support fellows
Support young social innovators by donating to the Sprout Ideas Fund, providing capacity-building and resources needed to launch projects that create positive social change.
Donate Now